Can you believe it's Sunday? The weekend went by too fast. I'm definitely not ready for Monday, I vote it comes back another time. Who's with me?! I had such a great and relaxing weekend that I don't want it to end. On Saturday I woke up early, had my coffee and headed to my first blogger meet up. The Her Campus Bloggers hit up Barre Tech in Arlington, VA and we sweated it out! I'm not kidding, I was sweating like crazy just three minutes into the warm up. It was such a great workout that I'm including it in my regular fitness routine. Marisa, our instructor was awesome! She was so nice and helpful! I was really nervous about taking the class but she definitely eased my fears. If you're ever in the Arlington area I recommend you take her class! You won't be sorry. I'm feeling a little sore today, but it's the good kind of sore. I can't wait to go back!
After class we were treated to juices samples by South Block Juice Co (glow was my favorite!) and yummy salads from Sweetgreen. We were also given swag bags filled with goodies.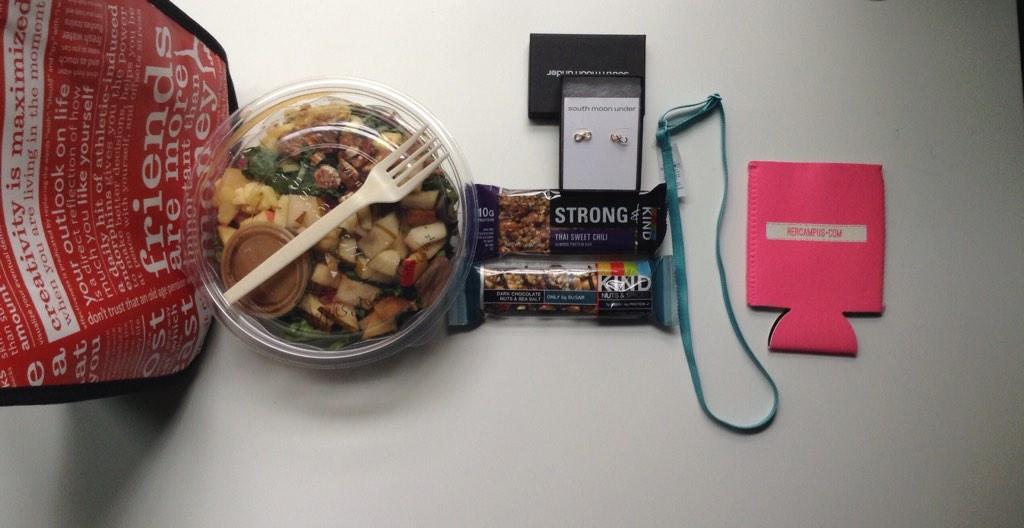 Everything was nicely placed in a red lululemon bag (on the left)
Inside were KIND bars, earnings from South Moon Under, a headband from lululemon and a Her Campus koozie.
Here are some photos of Saturday...
Marisa our Instructor
Her Campus Bloggers posing at the Barre (see what I did there?)
Yummy Juices
Juices and salads
Thanks to
Alicia
for putting this event together! Also, thanks to Amy at Barre Tech, sweetgreen, South Block Juice Co, South Moon Under, and KIND Snacks for all of the goodies!
xoxo